So here are some pictures of Montgomery Academy - well, our home. Welcome! The next post will be the Downstairs version.
Picture of the exterior from the original floor plans. We have lovely landscaping at our house. LOL. Maybe I'll post a real exterior picture some day.

Floorplan of the upstairs

View from the front door - you walk in and immediately see the half wall. The stairs are on the other side. The great room is to the left. Dimensions of the Great Room are 19' x 17. There is another bookcase to the left of the couch along the south wall there.
The new cubbies - they are along the east wall. There is a loveseat next to the cubbies.
The dining room adjacent to the Great Room. The dimensions of the dining room are 9' x 12'.
The hallway off the great room. The first doorknob is for the linen closet, then the bathroom, and the last door on the left is the master bedroom. The washer and dryer are behind the fabric curtain.
The upstairs bathroom. (The only bathroom upstairs.)
Super's bedroom. Across from the master bedroom. The pack and play is by the door (obviously) and his bed is on the opposite side.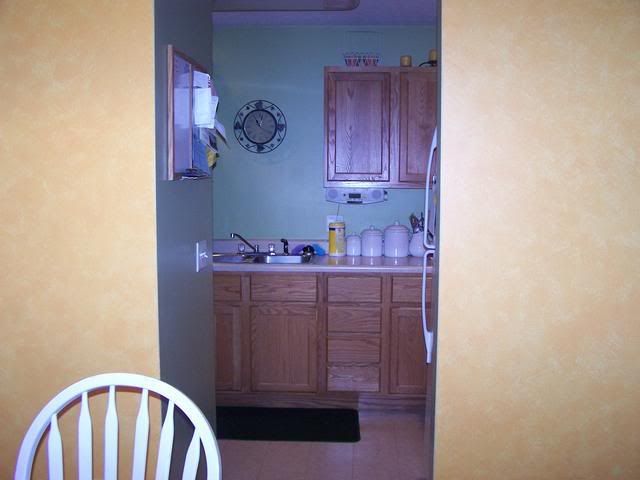 This is a picture of the kitchen from the dining room. The fridge is on the right as you enter the kitchen.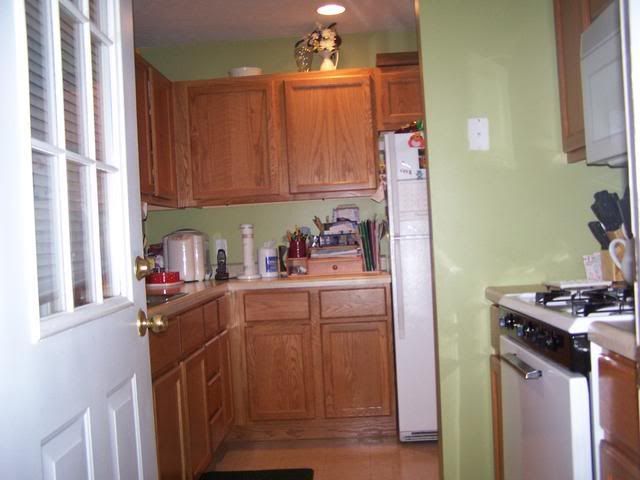 Here is a picture of the rest of the kitchen from the back door. Dimensions on this room are 8' x 12', but it sure feels smaller than that with this configuration. Definitely not an entertainment kitchen, and you cannot see the Great Room from the kitchen. Which is annoying.
We have a detached garage, so this door is the door that the family usually enters. The preschool/daycare students enter through the front door.
================
So there's a view of half of the space. Check back soon to see the rest!